5 Meaningful Memorial Gifts For Someone Who Lost Their Father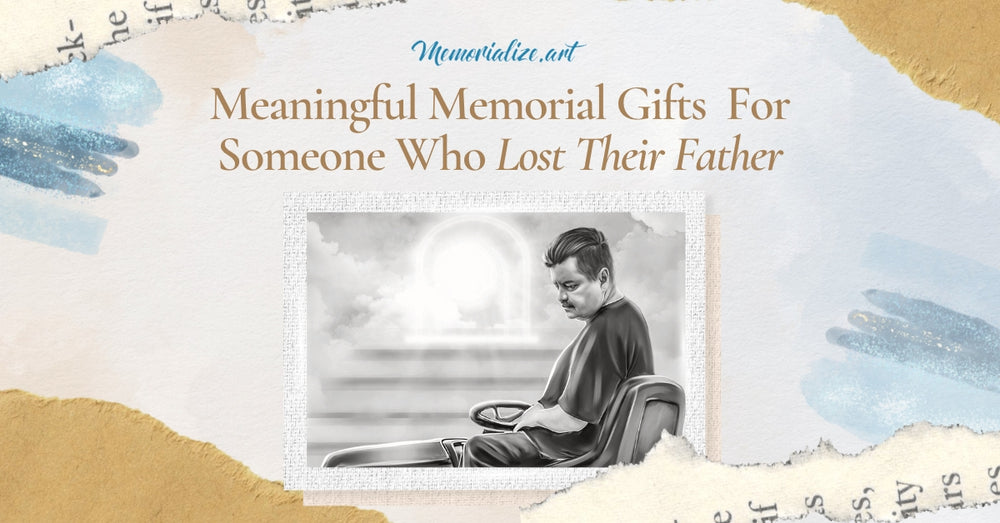 Losing a parent is one of the most challenging experiences a person can go through. It can be especially tough when the death is sudden or unexpected. Many people find comfort and solace in receiving kind words and thoughtful gifts from friends and family members. Sometimes, just knowing that others can make all the difference.
If you know someone who has lost their father, please take a moment to reach out to them. Simple gestures like sending flowers or a card can mean a lot; you empathize with them during this dark time.
If you are looking for a meaningful way to show your support, consider giving a meaningful gift. Many options are available, so you can find the perfect gift to express your sympathy and help the grieving process. Here are some of the best memorial gifts for someone who has lost their father.
Why do people give out memorial gifts?
Many people give out memorial gifts to remember and honor a loved one who has passed away. It can be a tangible way to keep the person close and help them through the grieving process.
Some people also find comfort in knowing they are helping others in their difficult times of need. By donating to a charity or cause in memory of their loved one, they feel like they are doing something positive despite their sadness.
Whatever the reason, giving out condolence gifts is a thoughtful way to remember someone special who has passed away.
What are the most appropriate kinds of memorial gifts?
There is no right or wrong answer, but some people may feel uncomfortable receiving a gift that is too personal.
Some families might prefer to receive donations to a charity in memory of their loved one, while others may appreciate gifts of flowers or plants. Many people choose to send a card with a personal message instead of sending a physical gift. Whatever the family prefers, it's important to be respectful and sensitive to their wishes.
5 Sympathy Gifts for the Loss of a Father
1. Memory Photo Frame
Source Image from Pexels.com
A photo frame would be a wonderful gesture to someone who has lost their father. A photo frame is a physical embodiment of memories, and it can be exceptionally comforting for someone grieving to have photos of their loved one around them. It could be a way of keeping their ``father's memory alive.
There are many different types of photo frames available, so you can find one that best suits the personality of the person you're gifting it to. If you want to get a bit more creative, you could also make a photo collage or memory book as a keepsake for the person.
2. Keychain with Handwritten Note
A keychain with a father's handwritten note can be a touching gift for someone who has lost their loved one. It can remind them of their family and friends' support and love. The keychain can also remind them that the person they lost is always with them in spirit. A handwritten note on the keychain will show that you took the time to write something personal for them, which will mean a lot.
Seeing their father's handwriting again will comfort your loved one. This could be one of the most meaningful gift ideas out there. Even more convenient if they can take it with them everywhere they go! That's the kind of assurance they'll feel when they see this lovely keychain bearing their own handwriting. The shop will meticulously engrave your handwritten message onto the real cowhide; all you have to do is upload it.
3. Family Portrait
A beautiful and heartfelt way to commemorate the loss of a father is with a family portrait. Gathering your loved ones together to have a photo taken can be very special and meaningful for everyone involved. It can be a reminder of the happy times shared with their dad, and it can also serve as a lasting tribute to his memory.
If you're looking for a unique gift idea that celebrates the life of someone who has passed away, a family portrait is something to consider. You could work with a professional photographer or even take the photos yourself if you have some photography skills. Whichever route you choose, capturing your loved ones in this unique way will surely be appreciated by the recipient.
Order Your Watercolor Family Portrait Here
4. Memory Wind Chime
Pay attention to the sound of the wind and think of your dad whenever the bells ring. Inscriptions of your father's name, birth, and passing dates will be a touching tribute on this wind chime.
It's not necessary to see the wind chime to know that he's there; the sound alone is plenty. Enjoy the peaceful atmosphere of your backyard with the soothing sounds of these wind chimes.
5. Gift Basket
A gift basket can be one of the best sympathy gift ideas to show your support to someone who has lost their father. It can be filled with treats and items that remind the bereaved of happy memories with their dad.
Some ideas for what to put in a gift basket for someone who has lost their father include:
Coffee or tea, along with mugs or cups

A book about fathers or coping with loss

Pictures of the deceased father and the bereaved together

Souvenirs from trips the father and son took together

A CD of songs that were special to them both

Gift certificates to his favorite restaurant or store
How to Pick the Most Appropriate Memorial Gift
When choosing a present to send to a grieving friend or family member, it's important to keep a few things in mind. Don't forget to factor in the timing while purchasing a present. Possibly wait till after the funeral has taken place to send your condolences. This will allow the bereaved a sufficient amount of time to mourn before having to deal with any gifts. There is no easy answer, as each situation is unique. Here are some general tips to help you choose the most appropriate memorial gift:
Step 1: Know Their Beloved Father's Interests
Keep in mind the person's personality and interests. If you're not sure what to get, think about what the person loved to do or what favorite things they enjoyed.
Step 2: Consider the relationship
Consider the occasion and relationship of the bereaved to the deceased. A close friend or family member might appreciate a more personal gift, like a handcrafted necklace or a photo album filled with memories.
Step 3: Avoid something intimate
Avoid anything too intimate or personal, like clothing or jewelry. These items might be too difficult for some people to accept.
Step 4: Choose something that will keep their happiest memories alive
Whatever you choose, make sure it is something that will remind you and others of your loved one's life and personality. That way, their memory will always be kept alive.
However, if you're looking for general guidelines, a thoughtful and personalized gift is usually more appreciated than something generic or impersonal. If you're not sure what the deceased would have liked, a donation in their name to a charity or organization they cared about is a nice option.
Whatever you choose, it's important to consider the bereaved's feelings and respect their wishes as much as possible. Memorial gifts can be a complex topic to navigate, so if you're not sure what to do, it's always best to ask for help.
3 Factors to Remember in Choosing the Right Memorial Gifts
When Is the Right Time to Send a Condolence Gift?
Send a gift card and a sympathy present as soon as you hear about the death. Get in touch with that person as soon as you can, within a week or two at the most.
If you and the deceased person's family were close, you might want to consider a memorial gift such as a tree or bench in their honor after some time has passed when additional thought or planning is required. It is standard practice for families to scatter ashes at memorial services held months or even years after a death.
What Type Of Gift do You Want To Give?
Depending on how well you know the recipient, any item that you think they'd appreciate could be a fantastic gift. As long as you're aware of their likes and dislikes, it's nearly impossible to serve them the wrong dish.
You may find comfort in looking through a photo album, picture frame, or memory box with snapshots of happy times. Whether it's a photo or something else you think the receiver will like, feel free to include it.
What is their religion?
Before sending a gift, research the recipient's religious background and preferences. For instance, while it is appropriate to send flowers to a Christian funeral, it is not appropriate to send flowers to a Jewish funeral. Prior to serving a Jew a home-cooked dinner, check to see if the ingredients are suitable for a kosher diet.
How do you memorialize a father?
One way to memorialize a father is to create a physical space where family and friends can gather to remember him. This could be a park, garden, or sculpture that is dedicated in his memory.
Another way to memorialize a father is by telling stories about him. This could be done through oral tradition or through memoirs. Sharing memories of your father helps keep him alive in the minds of those who loved him.
Lastly, you can also memorialize your father by living according to his values. If he was generous, kind, and compassionate, try to embody these qualities in your own life. This will keep his spirit alive long after he is gone.
Is giving memorialized art a good choice?
Yes, giving memorialized art is a good choice. It can be a beautiful and meaningful way to commemorate a loved one and keep their memory alive.
When choosing memorialized art, it's important to find an artist who can capture the essence of your loved one in a true and authentic way. The artwork should be something you'll proudly display in your home, and that will bring you comfort and peace every time you look at it.
If you're looking for ideas, here are some examples of memorialized art that can be given as gifts:
Portrait paintings or drawings

Custom jewelry with ashes or hair inside

Sculptures or figurines

Memorial tattoo designs

Glass
Know more about what memorial gifts to give and choose Memorialize Art
If you are looking for a meaningful and unique gift to give someone who has lost their father, consider one of the options we've listed. These gifts will show your support and love for the grieving person and help them commemorate their father's life. Memorialize Art can be your helping hand when giving a thoughtful sympathy gift. What is your favorite meaningful memorial gift?
---