How to Express Gratitude for a Gift: A Quick Thank You Guide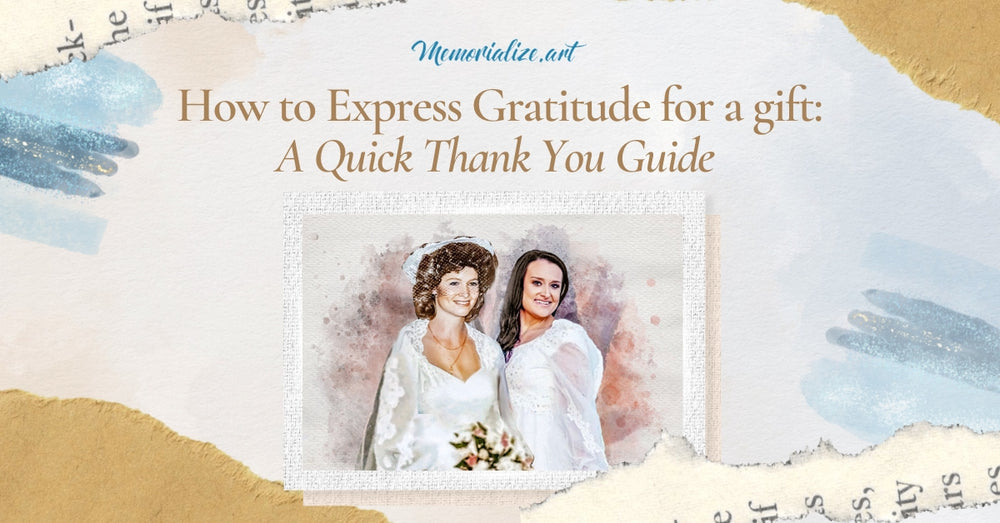 Why does it take so much effort to express genuine gratitude, even when you feel it? Not everyone enjoys writing, and it's frustrating when your words can't express gratitude. Sometimes people get a generous gift without any prior warning and don't know the protocol for returning the favor of someone's lovely gift.
Sending a gift is an excellent method to express feelings without using words. On the other hand, it can be challenging to figure out how to provide a token of appreciation. Worrying about what may happen if they don't enjoy it is understandable. What type of gift to give? Exactly how much do you need? All of these factors might add unnecessary difficulty to the simple act of delivering a token of appreciation.
Ways to Express Gratitude For A Gift
Thank You Card
Adding a thoughtful message to a thoughtful gift is a way to show appreciation for someone who has gone above and beyond for you. In addition to the present, a handwritten letter of gratitude is always appreciated. Adding a personal touch, whether by handwritten letter or gift tag with the recipient's name and a short remark, makes the gesture more meaningful.
Thanking someone verbally for their thoughtfulness and generosity is a universally adored action. After all, sending a heartfelt note of gratitude is the bare minimum that one can do upon receiving a gift. Writing a thank-you note may seem like a lot of effort, especially if you want to highlight the other person's gift. That's the case! It would help if you showed your appreciation without coming off as fake.
If you want your sweet note to stand out, it's important to explain why your meaningful gift means so much to you. Likewise, please share how it made you feel to receive it. After that, write a quick line of gratitude.
Verbal Expression
The most obvious way to show gratitude is with verbal expression – by saying "thank you" in person or on the phone, giving an enthusiastic hug or kiss. You can also write a heartfelt note expressing your appreciation for the thoughtfulness of the gift giver; especially if it was unexpected. Along those same lines, sending an e-card or email message expressing thanks is another way to get your point across. 
Gifting Back
Order Personalized Portrait Here
Another great way to show appreciation is through gifting back. This may involve finding something thoughtful that they would enjoy receiving or even making something yourself if you have creative skills! From homemade cards featuring an inspirational quote written inside to giving them their favorite coffee blend - many unique ways can help make them feel special and appreciated. 
You could also take it one step further by giving a personalized portrait to thank them for their thoughtfulness. It will serve as a reminder at any time about how much you appreciate all that they do without fail - whether big or small actions taken out of kindness towards others around them too! 
Make an Effort to Show Gratitude
It's best to consider the recipient's preferences when picking up a precious gift. Before making a decision, think about the person and what they like, and stick with options that fit that description. Paradoxically, give it too much consideration. You can end up with a present more representative of your beliefs about the receiver than what they truly desire. Everyone appreciates a present that shows they thought about it with a heartfelt message included.
If you want to make an impact that lasts, a thoughtful thank-you present is a way to go. It's always a good idea to show appreciation by sending a gift, whether wine, a gift card, a personalized present, or simply a handwritten note. Showing appreciation to others is always in vogue.
Visit Memorialize Art for More Gratitude Gifts
It's intriguing to learn more about gratitude gifts and their role in connecting us to positive emotions. Memorialize Art offers a remarkable selection of custom art mementos that can be cherished for years on end. These exclusive one-of-a-kind pieces are a special way of saying thank you, of expressing admiration and appreciation for that special someone. For something unique and memorable, turn to Memorialize Art for its vast selection of gratitude gifts! 
---