4 Military Gifts For Your Loved One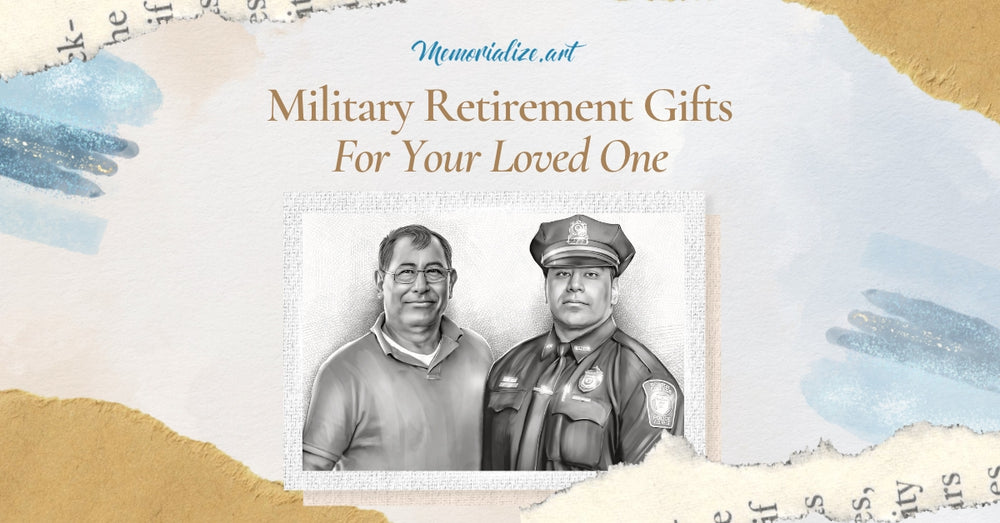 Retirement from the military is a significant event in a person's life. It marks the end of their career in the armed forces, and it can represent a major lifestyle change. For many retirees, this transition can be both exciting and daunting.
They look forward to spending more time with family and friends. So, a military gift is a welcome gesture for them to enter another chapter of their life.
Do People Give Out Gifts for People Retiring From the Military?
When a service member retires from the military, it is a time of mixed emotions. While beginning a new chapter in their life is exciting for them. They may also feel a sense of loss at leaving the only career they have ever known.
While giving gifts to military retirees is not an official tradition, family members and friends often follow it.
Why Does It Matter for Military Men to Receive Gifts?
Military men and women are not allowed to receive gifts during their service years. This is why gifts can help show support for them and make them feel appreciated during their retirement.
4 Most Meaningful Gift Ideas for Someone Retiring from the Army
Scale Model
Service members are fiercely loyal and often harbor sentimental feelings for a particular ship, airplane, or land vehicle. A great way to let them know you've been paying attention all these years is to give them a miniature replica of their area of interest.
Bar Gift Basket
The home bar can always use more beer steins, wine glasses, and whiskey decanters. Think about using a customized decanter as décor. Or perhaps a humorous piece of wall art that lists all the bars and wineries the new retiree has visited.
A Display Case for Their Medal or Military Challenge Coins
A wooden shadow box or display case for a flag would make a wonderful retirement gift. Having an important flag is fairly common in military households, but frequently they sit on a shelf waiting for the perfect place.
Many Veterans from different service branches view earning challenge coins as a rite of passage. Retired military personnel can display their challenge coins with style and dignity.
A Watercolor Portrait of the Family
Order Watercolor Memorial Portrait Here
This gift will help them feel the love and joy of having a family. After spending time serving in the military, this is now an opportunity to focus on their family and personal relationships.
4 Features to Look For When Buying Military Retirement Gifts
Many military members receive their retirement orders several months in advance, so it is important to plan if you want the retiree to have their gift in hand when they retire.
Consider the Retiree's Hobbies and Interests
This is an important consideration because the retiree will be keen to pursue a hobby or an interest now that they have more time.
Look For Unique Gifts That Aren't Available Everywhere
A unique gift means effort and care in choosing it. Since they only retire once, you should make the most of this gift-giving opportunity.
Avoid Generic Gifts Like Picture Frames or Plaques
Another tip is to make the gift as personalized as possible. They deserve a good gift after their years of labor and service to our country.
Make Sure the Gift Is Practical and Useful
After years of using their wits and minds in daily living in the military, they will surely appreciate a practical gift that can be used in various applications.
How Do You Celebrate Military Retirement?
Many military families celebrate retirement with a big party. Some families may have a smaller get-together with just close friends and family. No matter how you celebrate, include plenty of photos and stories to remember the day!
What Should You Say or Do for Someone Retiring From the Military?
It doesn't have to be flamboyant or wordy. Be straight to the point in your message. Thank them for their service, and wish them well in their future endeavors.
3 Tips to Remember when Celebrating Military Retirement
Give Your Retiree a Meaningful and Memorable Retirement Celebration
Your retiree deserves a special celebration to mark this momentous occasion! Consider planning a party or get-together with friends and family to honor your retiree.
Honor Their Years of Service With Military Traditions
Military traditions are a way to show respect for those who have dedicated their lives to serving the country. Some traditions that could be observed include a military parade, a retirement ceremony, or a special tribute.
Make Time for Family and Friends During the Celebration
Making time for family and friends during the celebration is a great way to show appreciation for all they have done for you. Be sure to take some time to enjoy their company and thank them for their support.
Figure Out What the Best Gifts for Military Retirement Are With Memorialize Art
If you or someone you know is retiring from the military, take a look at Memorialize Art for some unique and memorable retirement gifts.  We offer various pieces of artwork specifically designed to honor those who have served in the armed forces. Our artists are passionate about creating pieces that capture the spirit of heroism and patriotism that define our troops. So whether you're looking for something special to hang on your wall or want to give a one-of-a-kind gift to a retiring veteran, we have just what you need at Memorialize Art.
---