7 Sentimental Sympathy Gifts for Men in Grief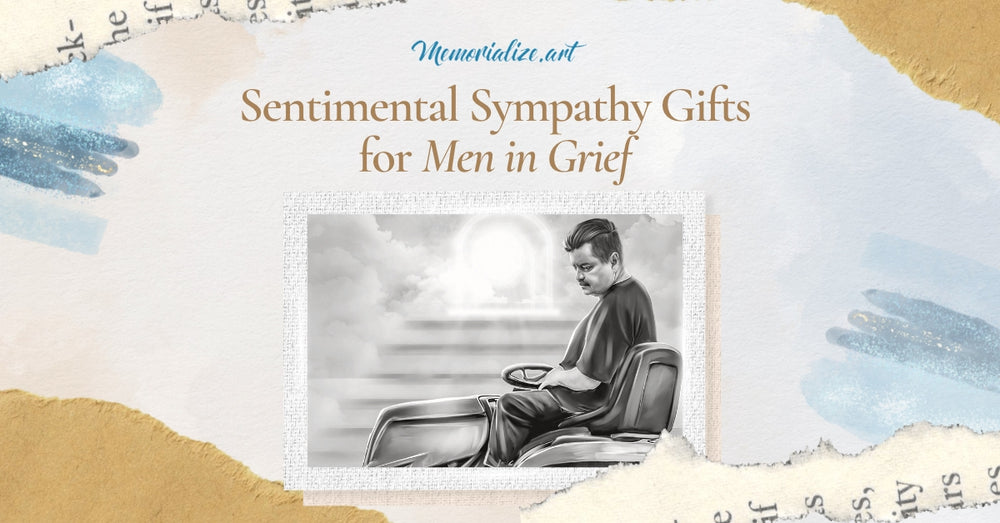 When you hear about a death, it's natural to feel sympathy for the friends and family of the deceased. Sometimes the best thing you can do is simply be there for them and let them know that you're thinking of them. But if you're looking for a little more than just words of comfort or are finding it challenging to find the right words to say, consider giving them a sympathy gift. 
Generally, coming up with a gift idea for men can sometimes take time and effort. When you combine this with the challenge of finding the right memorial gift, the task might appear too daunting. However, you don't have to worry. Whether you're thinking of getting a memorial gift for an acquaintance, close friend, or loved one, here are seven sympathy gifts for men ideas you can consider. 
How Does Choosing the Right Memorial Gifts Work?
Choosing the right memorial gift can be tricky. You want to find something meaningful and appropriate, but you also don't want to offend the bereaved or seem like you're trying too hard.
However, what can help you stay on the right course is to choose something that best suits the person you're giving the gift to. Generally, most gifts would be greatly appreciated if you consider certain factors about the bereaved and the deceased. 
What Are the Reasons Why Sympathy Gifts Matter?
Giving a sympathy gift might not be the first thing everyone considers when they hear of someone else's passing. But, while this may not be a requirement, giving a memorial gift is a great way to show the bereaved that you are thinking of him during a tough time. 
The grieving process isn't easy, and usually, the bereaved tend to close off from others. Giving sympathy gifts is a simple yet heartwarming gesture to let your recipient know that you've got his back and that whatever emotions he's feeling is valid. 
7 Good Sympathy Gift Ideas to Give to Grieving Men
Personalized Memorial Bracelet
A piece of jewelry is a classic choice to give as a memorial gift. Some of the most popular ones for men include cuff bracelets and leather bracelets. To make this gift meaningful, you can customize it by engraving the deceased's name on the cuff itself or attaching a charm that your recipient can associate with their loved one. 
Custom Dog Tag
In a similar fashion, you can give your recipient a customized dog tag as a different take on a sentimental gift. Again, you can make it simple, like having the deceased's name printed on one side, or maybe have a photo printed to make it serve a similar purpose, like a locket. 
Personalized Wood Photo
As a gesture of remembrance, if you're close to the bereaved, you can take his favorite picture of his loved one and have this engraved or printed on a piece of wood. If you love this idea but don't know where to get a photo, you can engrave a custom message instead. 
Care Package
Another condolence gift idea is a grief care package. Since the grieving process is extremely difficult and tiresome, giving your friend or acquaintance, a care package can show him that you care for his well-being. A care package's contents would depend on you and what you think your recipient would appreciate the most.
For example, you can give him a food care package and handpick your friend's favorite snacks or comfort food. On the other hand, you can give him an aromatherapy gift with some essential oils and a diffuser. You can even include a comforting blanket in this package if you want. 
Gift Certificate
A practical yet meaningful gift that you can consider is a gift certificate. Choose the one you think the bereaved needs or wants the most during this difficult time. For example, you can get him a certificate for a cleaning service to help him take care of his house while he's grieving. Alternatively, you can give him a certificate to a place you think can help them deal with his emotions, like a gym or his favorite restaurant. 
Grief Book
If the bereaved is someone who enjoys reading, you can give them a grief book to help them through the grieving process. This is an excellent choice if your friend might not be the type of guy to express his emotions or talk to others openly. He may be able to find a sense of connection with an author or process his emotions through your chosen book about grieving. 
Custom Car Model
Some guys have a particular interest in automobiles, and usually, they bond with close friends or family members over this shared interest. You can give him a custom car model as a sentimental gift idea. You can either have the deceased's name painted on the car model itself or their name engraved on a stand or platform where the car is placed. 
Voice Memorial Gift
Giving a Voice Memorial Gift with a QR code is a wonderful way to remember and honor a loved one who has passed away. By scanning the QR code, friends and family can listen to your loved one's voice, recalling happy memories and moments shared together.
This unique and touching gift is perfect for any occasion, and allows you to share your loved one's voice with the world in a very special way. 
Order Your Voice Memorial with QR Code Here
3 Important Factors in Considering What to Gift to a Grieving Man
The Personality of the Guy
One of your primary considerations is his personality. For example, is your friend or acquaintance the type of guy who would love to keep mementos displayed at home, or do you see him wearing pieces of jewelry? Do you think he's sentimental, or does he have difficulty expressing his feelings to others? When considering these, you can choose which memorial gift best suits your recipient. 
Relationship With the Bereaved
Another factor you should consider when coming up with the perfect gift is how close you are to the bereaved. If he's a close friend of yours or your boyfriend, you can go with the more personal gifts, like the personalized memorial bracelet. On the other hand, if you're not that close with this person, consider giving him something close to a generic gift, like a grief book or gift card. 
Religion
Lastly, one of the most important factors you must remember is the bereaved's religion. Especially if you plan on giving a memorial gift with a personalized message, you shouldn't quote religious sayings if your recipient does not subscribe to a particular religion. Remember that your goal is to let him know that you're there for him during this time of bereavement, so the last thing that you want to do is make him feel uneasy. 
3 Tips to Remember When Giving Out Sympathy Gifts to Men
Do Your Research
Knowing a little bit about the bereaved would help you come up with the best memorial gift to give. You could get an idea of what they want or need the most. 
The same goes for choosing your gift. For example, if you want to give a book about grief, it helps first to do a quick search on the different kinds of books and read some reviews to determine the best one for your friend or acquaintance. 
Empathize With Them
It also helps to get some understanding of what the bereaved might be feeling during this time. For example, if the recipient is a father and you're not a parent, it might be hard for you to think of an appropriate memorial gift. Empathizing with your recipient can give you an idea of what meaningful sympathy gift to get him. 
Attach a Message
While it might seem difficult to have the right words to say to someone grieving, it would be best to attach or include a message to your memorial gift. It doesn't have to be long, just as long as it expresses your condolences. 
Frequently Asked Questions About Sympathy Gifts for Men
What's an Alternative to Giving a Grief Gift?
If you can't give your friend a gift, you can show him that you care through actions. For example, if he needs some help with cooking, you can prepare him his favorite dish. If he doesn't have the time or energy to do gardening, you can help out with that too. 
Should I Wrap the Sympathy Gift?
If you're buying an already-made gift, like a gift basket, these usually already come with their own packaging. However, for the more personalized memorial gifts, it's better to enclose them in a cozy gift box or even a simple paper wrapping instead of just handing them over. 
Where and How Do I Get a Sympathy Gift?
It really depends on what type of memorial gif you're planning to give. For example, for custom objects, you'll find some online shops that specialize in making custom trinkets and jewelry. They usually have a set process, but you can prepare beforehand by thinking of your design or having a copy of the photo you want to be painted or engraved.
Know What Things to Gift as Sympathy for Men With Memorialize Art
When it comes to making customized paintings and different artworks for a memorial gift, Memorialize Art has your back. Discover what other sympathy gifts you can give to men and reach out to the Memorialize Art team to get started. 
---