The 4 Best Gift Ideas for Any Newly Engaged Couple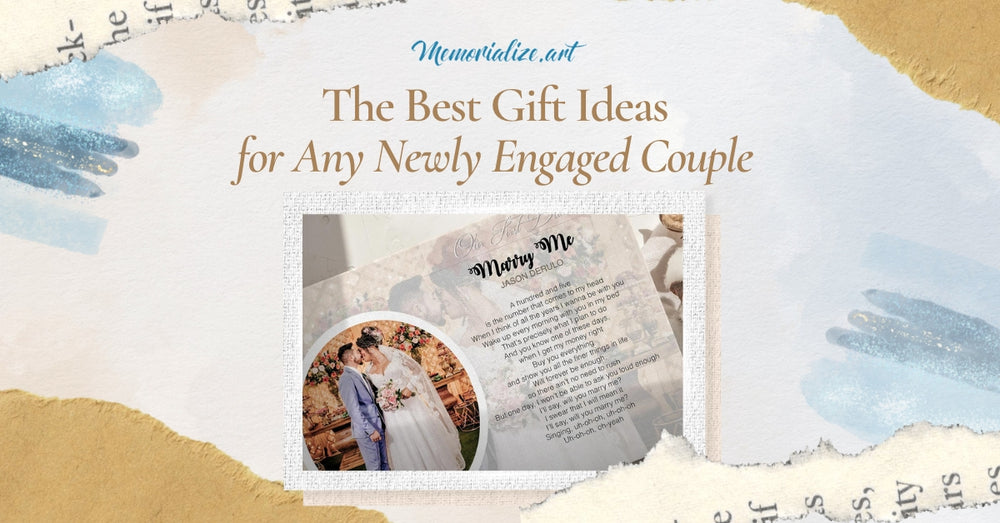 When it comes to finding the perfect gift got the engagement of a couple, it can be difficult to determine what to get them. After all, this special occasion deserves something special, thoughtful, and unique. The best gift is one that shows them you care.
Plenty of great gift ideas will make their engagement even more special. Whether you're thinking of what to give as an engagement gift for the bride, groom, or both, here are some ideas to help you get started.
Why Give Engagement Gifts to Couples
Engagement party gifts, bachelorette parties, and dinner parties are great ways to show the couple you care about their relationship and future. It's an opportunity to show your support and celebrate the exciting news of their engagement. Whether you're a close friend or family member, giving engagement gifts for an engagement party is a thoughtful gift that the happy couple will appreciate.
Giving engagement gifts will let the couple know that you're excited for them and that you're looking forward to being a part of their big day. It's also a great way to show the couple that you're supportive of their relationship and the future that lies ahead.
Engagement gifts are also a great way to show the couple that you're willing to help out on their wedding day or in any way you can. Whether it's cash, items to help them with the wedding planning process, designing wedding invitations, or a gift card to a restaurant or store, any of these is a meaningful gift. It will go a long way in helping the couple prepare for their new life together.
Best Gift Ideas for Newly Engaged Couples
An engagement gift can also be used to celebrate the new life of a lovely couple. You can choose items that will help them start their new life as a married couple. It can be a physical gift or something to remind them about their relationship.
This is a great way to show your favorite couple that you're thinking of them and want to give them something special to help them start their new life.
Personalized Engagement Portrait
Engagement pictures or wedding photos are a timeless tradition and the most common gift that captures a couple's commitment to each other. The piece of art is displayed proudly in the couple's home or given as a personalized gift. You could also customize the frame to match the couple's home decor.
They will be able to treasure the photo for years to come, and it will serve as a reminder of the couple's love and commitment. You can also create a personalized album filled with pictures from the engagement shoot or print out large prints to hang in the house.
Date Night
Date night is a great engagement gift for couples. With the hustle and bustle of everyday life, it can be difficult for couples to spend quality time together over a nice bottle of wine. Giving soon-to-be newlyweds the gift of a date night can be an ideal way to give them a chance to reconnect and spend some quality time together.
Date night can be a unique engagement gift, such as a night out for dinner or a movie accompanied by a bouquet of flowers, or it can be something more adventurous, like a day trip to a nearby town or a weekend getaway. No matter your budget, plenty of ideas will make the perfect date night.
One of the great things about date night is that it allows the happy couple to reconnect and have fun together. After all, it's the little moments that make a relationship special. Having a date night allows couples to talk, laugh, and enjoy spending time with each other.
Engagement Party Gift Basket
Gift boxes have become increasingly popular as engagement gifts for couples just starting their lives together. It can be a bride box or a custom box with a variety of different items that they can use. This makes them more memorable than just one gift.
These are extremely convenient and practical. You don't have to worry about picking out ideas for a small engagement gift. You can have many of these which you think will be memorable for the couple and include it in a gift box.
It can be a set of coffee mugs, wine glasses with their favorite bottle of wine, a bottle of champagne, or a cheese board complete with cheese knives.
Jewelry
Jewelry is a timeless and classic gift that is perfect for any couple. Matching jewelry sets are a great choice for bride and groom gifts, as they symbolize unity between the two of them.
Matching jewelry sets come in various styles, from classic and traditional to modern and unique. There is something to suit everyone's taste and style. They can be made of various materials, from gold and silver to gems and diamonds. Depending on the couple's preference, you can choose from various matching earrings, necklaces, bracelets, pendants, and rings.
Jewelry sets or a bride ring are a great way of showing how much you value the couple's commitment and are sure to be a hit as a unique engagement gift.
Show The Couple Your Support and Love
It's a gesture that speaks volumes and will truly be appreciated. Whether it's something that symbolizes their love or something that reflects their personalities, giving a thoughtful engagement gift like the watercolor portrait from Memorialize Art will be something that the couple will remember for the rest of their lives. Order yours today!
---