5 Tips for the Best Pet-Friendly Family Portrait Experience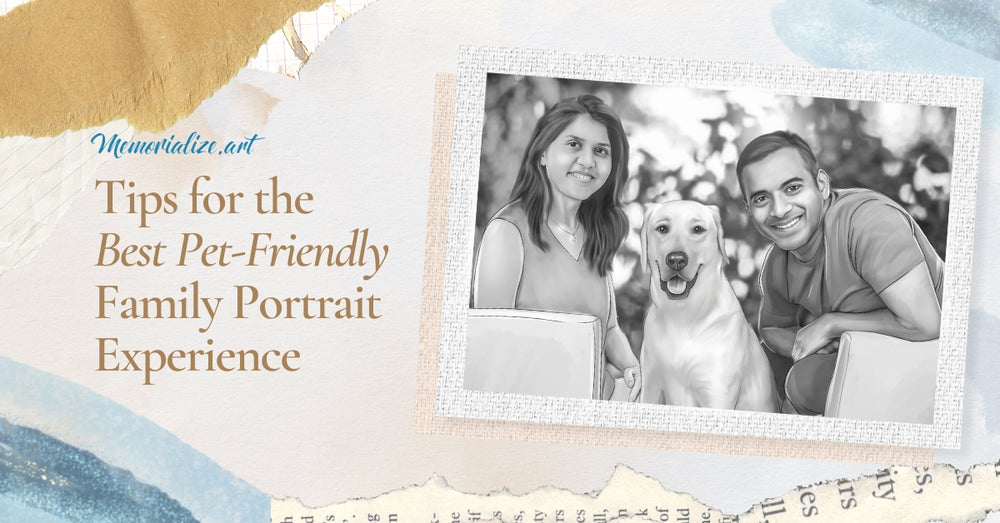 Pets are part of the family, on the level of human children. Many prefer to include their dogs in the photo to add a more personal touch to the family portrait session or its owner portrait. Taking pictures of pets is more challenging than it first appears.
The key is to remember that it's not always a walk in the park. Your pet's unique personality makes him so endearing, but it might be challenging to snap a good custom portrait. Despite the difficulties, families regularly get great results while photographing themselves with their pets. To facilitate this process, here are some suggestions.
Be Sure to Go Over Basic Practices
Having a pet that understands the meaning of "sit," "stay," and "down" is a huge help when shooting pet family portraits. Explain to the photographer what orders you may give to your dog so they can capture the best shots possible. Having these on hand will let the photographer use them to coax your dog into the perfect stance during the shoot. 
Ensure the photographer understands that your dog understands orders in a non-English language. Time spent teaching your pet the basics of sitting, staying, and coming when called makes for a better photograph. The ability to use these cues will not only make shooting photographs simpler but will also help her act more respectfully in general. It's feasible to train a cat to do tricks, but it'll be much tougher. Because most cats will not obey your directions, you must devise creative methods to keep them still while you snap their image.
Bear in Mind the Treats
Before the photo session, stuff your pocket with a handful of tasty goodies to positively reward your pet and improve its obedience when you ask it to sit, remain, or perform other actions, treats will help you especially when it's your pet's turn to have its single portraits. Always remember to carry a few goodies for your Studio Sessions. 
Take Care of Timing the Session
Your pet could learn something new by participating in the family portraits session. It might make her enthusiastic or apprehensive, depending on how she naturally reacts to new situations. When your pet is relaxed, the photo shoot will likely go off without a hitch and proceed well. If you are aware that there is a certain time of the day when it is more possible for this to occur, you should plan the portrait to take place at that time to not waste plenty of time. It's possible that after an afternoon sleep, your feline friend will be calmer; plan the photo shoot for right after the nap is over. There's a chance your dog is more manageable after a walk; try taking him for a short stroll first.
Lighting from Outside Sources is Recommended
Get Your Watercolor Pet Portrait Here
Hiring a professional photographer can alleviate this problem somewhat since they will likely have access to powerful tools designed to eliminate red-eye. However, because of the way the light from a camera flash reflects off the back of an animal's eyes, even the cutest kitten or puppy might end up looking like a monster in an amateur shot. Pets who are already anxious or fearful might be frightened by it and disappear in a blur as they try to flee. If you're taking the photos yourself, pick someplace bright. A professional pet photographer will likely already be aware of the advantages of natural daylight and may recommend taking photos with pets outside.  
It's Important to Maintain Adaptability
An unexpected but endearing action from your pet can make for a more memorable photograph, even if it isn't what you had hoped for. Whether you decide to take the photographs yourself or pay a professional, keep an eye out for opportunities like these. After all, the unexpected antics of dogs are a big part of their appeal. If your pet does something ordinary, it may help show off her unique characteristics. Taking pet photos that you will love for a long time requires planning, adaptability, and patience.
Some Varieties of Pet Portraits You Can Do
Get Your Watercolor Pet Portrait Here
Pet portraits in the form of paintings, posters, and other artworks are wonderful decorative accents and thoughtful presents.
Personalized Dog and Best Friend Print
Any combination of dog or cat breed, coat color, eye color, and skin tone can create a print that looks like you or the receiver and their pet. It can also be a Custom Pet Portrait.
Photographic Painting of a Pet
Digital pet portraits are supplied to customers, so they may print them themselves at home or have them printed and framed by a professional in the manner that best suits their preferences.
Custom Pet Watercolor Paintings
Portraits of dogs and cats, made in watercolor by hand. Perfect for the most devoted pet lovers, this will be the best pet portrait painting.
Custom Framed Pet Portraits
In addition to customizing the backdrop and frame, you can add an inscription with your pet's name.
Charcoal Pet Drawings
Get your pet drawn in charcoal by a professional artist. If you want something exceptional and one-of-a-kind. 
Conclusion
You may already know that including your pet in a family or couple portrait can result in several unique and unexpected facial expressions and positions. If you want the greatest photos of your pet, or simply just want to make it as a gift for a couple, you need to take a lot of them. It would help if you took pictures of your pet and action photographs of it playing. Check out Memorialize Art for ideas on what kind of portrait will suit your needs best; they have several options for family portraits, relationship portraits, and even pet portraits.
---