Remembering Moms: Writing a Tribute to a Mother Who Passed Away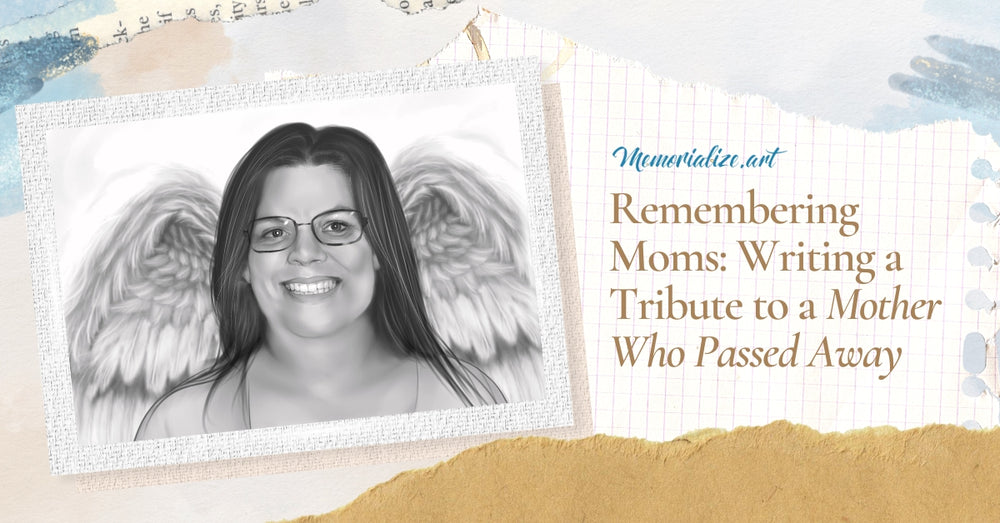 Writing a tribute to mother at her funeral is a challenging task. The loss of a mother causes an unbearable sadness and pain, but the act of remembering her can be delightful. Nobody shows us the type of unconditional love that our mothers do. Hence, coming up with the right words to honor them won't be as easy. 
Brief Description About Moms and their Importance
Mothers make us think of happy, unconditional love and care, which is what every child needs most. They are life's first and most enduring teachers. When mothers soothe their babies to sleep, feed them nutritious foods, and instill good values in them, they are laying the groundwork for their children to go on to do great things in the world. 
How to Write a Tribute to Mom
Include Important Details
When you pay an emotional tribute to a mother, like talking about her life, it's important to put things in the order they happened. Start with where and when they were born and go from there. Include important dates and events. Keep in mind that you don't have to tell everything about her life. 
Talk about Her Qualities
When writing the tribute for mother's funeral, think about how important your mother was to you and how much she loved and cared for you. Talk about the qualities of your mother,  her hobbies, how strong her faith is, or anything else that is important. 
Share her Struggles and Success
Find out what she went through and how she overcame it. Because everyone has problems, this is a chance to connect with the audience and make your mother seem like someone they could know. In the same way, it's a chance to show off her achievements to inspire others.
Give Emphasis to Her Teachings
Think about what your mom has taught you and other people. Think about how she has helped you or changed the lives of others. This is your last chance to leave something that people will remember.
Tips on How to Deliver Your Tribute
Start With a Plan
Make a plan before you start writing a tribute to a wonderful mother. Will you talk about important Bible verses and quotes about mothers, or will you tell funny stories and make everyone laugh? The theme of your tribute should match your mother's personality.
Think About the Person
Choose a few qualities or essential aspects to highlight in the speech. These remarks might make people feel and share that feeling. You may aim to make people remember the good times about the deceased at a memorial speech. 
Get the Audience's Attention
Start by addressing the listeners directly. To establish a relationship with the audience, you must speak to them personally. If you're giving a funeral eulogy, emphasize how the departed person brought everyone together. Talk openly about your relationship with this individual and the significance of your loved one in your life.
Tell a Story
One of the key tips to share your happiest memories with a loved one is to tell a story. The story you tell can relate to a specific theme or something personal you want to share. Tell a narrative about anything extraordinary about the departed that others may not know.
Finish Strong
Popular phrases or poems might tie up your speech. Ending with a loved one's phrase or saying can also make your listeners remember them. Leave a lasting impression on the audience, such as letting them recall their favorite memory of this person.
Order Memorial Art to Pay Tribute to Your Mother Who Already Passed Away From Memorialize Art
If you're looking for a truly unique way to pay tribute to your mom who has already passed away, you owe it to yourself to check out Memorialize Art right away. Our skilled painters will guarantee that your mother's most precious memories will be preserved for generations to come. Rest assured that we will accommodate your specific requirements with our customized portrait services.



---