7 Best Memorial Gifts in Remembrance of a Loved One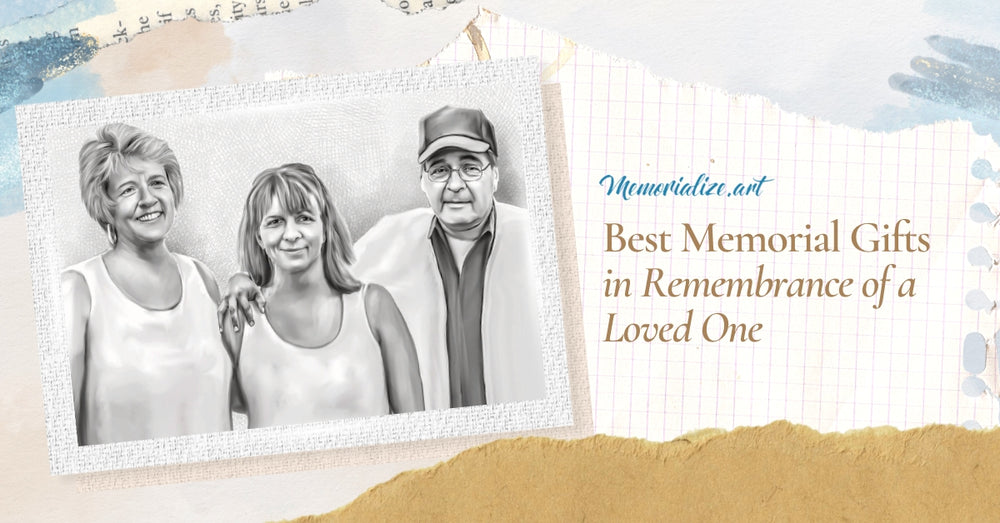 After someone passes away, it can be hard to find a meaningful way to remember them. Whether you're looking for something small to put on your desk or something big that will make an impact at their funeral, memorial gifts are a great way to keep their memory alive.
What is a good memorable gift to remember a loved one? Finding a gift that will truly stand out as a remembrance of a loved one can be challenging. Memorial gifts come in all shapes and sizes and have it's own meaning, especially when honoring the deceased.
How Are Gifts a Way to Honor Someone?
Gifts are a way to honor someone who has passed by helping the deceased's family. Each type of gift has a different meaning.
For example, if you were to give flowers to someone whose loved one had died, it might mean that you're saying that you're sorry for their loss or conveying sympathy for their situation. If you were to donate in honor of someone who has passed, it could be because you want to remember them or help the family with financial assistance.
Choosing the Right Memorial Gift
When choosing the best memorial gift, remember that the goal of selecting a thoughtful, personal, and lasting memorial is to create something that reminds you of your loved one positively every time you look at it.
A good memorial gift should be something meaningful, personal, and lasting that reminds you of your loved one positively every time you look at it.
7 Best Memorial Gifts in Remembrance of a Loved One
Here are some unique memorial gift ideas to honor a lost loved one.
Watercolor Memorial Portraits
Memorial portraits are a great way to honor the life of a loved one. Memorialize Art can make watercolor memorial portraits from your loved one's photo. It can be displayed anywhere to remind them of their loved ones. You can customize it with particular messages and dedications from you and any other personal touches you choose.
Sympathy Gift Baskets
Sending gifts in memory of a loved one is a unique and special way to honor them.
Sympathy gift baskets are a great way to show your love and support for the family or friends of the person who has passed away. They can be sent directly from you or a business. The baskets should contain items that are meaningful to the family, such as photos, cards from other people who knew them, or even food items that the grieving family can treasure.
Song Lyrics Art
Song lyrics art is a perfect way to show your loved one that you are thinking of them. This is a unique idea for memorial gifts that will show your creativity. The song lyrics are printed on canvas and look fantastic. You can also customize the size and colors of these prints so they fit in any room.
Loving Memory Glass Candle
Another perfect gift to remember someone who has passed away is by making a customized glass candle. A candle is a great way to commemorate a loved one's life. It can be placed on any table, mantle, or desk at home and will serve as a beautiful reminder of the deceased person.
Custom Charcoal Portrait
A custom charcoal portrait is a perfect solution if you want a personalized gift for someone who has lost a loved one. This gift will be treasured for years to come and will help you keep them close in your heart.
A custom charcoal portrait from Memorialize Art allows you to capture someone's personality and spirit with amazing detail. It's also an excellent way to celebrate an important event in their life, like a graduation or wedding anniversary.
Flower Arrangement
Flowers are the traditional way to express sympathy toward grieving families. They are also a beautiful way to commemorate a loved one who has passed away. If you're looking for something meaningful and beautiful, consider flower arrangements as your memorial gift.
Memorial Wind Chimes
Wind chimes are a great way to remember someone who has passed away. 
You can personalize them with their photo, reminding you of them whenever the wind chimes are heard. This is especially helpful if they are a close family member or friend.
Finding the Best Memorial Gift
Memorialize Art is a curated online art gallery for you to find the best memorial gifts for your loved one in remembrance of their life. Come browse our collection of personalized artworks, such as portrait paintings, song lyric art, charcoal portrait, and more.
Frequently Asked Questions on Memorial Gifts
What Do You Bring Someone Who Just Lost a Loved One?
When someone loses a loved one, showing that you care about them is important by providing a meaningful gift. This can be anything from flowers to food to a blanket or even a stuffed animal. It shows that you're thinking of them and want them to feel better.
If you're unsure what kind of gift would be most appropriate, it's best to ask the family members what they would like. You can do this by asking them directly.
What to Gift Someone So They Remember You?
An excellent way to do this is by gifting them a product that helps them with their daily tasks. For example, if you know someone who loves to bake, you can give them something like a pastry cutter or a rolling pin. Another example is if you know someone who likes gardening, you can get them a gardening tool set.
What Are Some Memorable Gifts?
Memorable gifts are those that are both personal and meaningful. Memorable gifts are often given when a special someone is going through a difficult time or has accomplished something extraordinary.
Order Memorial Gifts in Remembrance of a Loved One From Memorialize Art
Memorialize Art is proud to offer a beautiful selection of memorial gifts that honor the legacy of a loved one and provide comfort and healing during the difficult times of bereavement. By ordering from Memorialize Art, you can remember your loved one with dignity, honor, and respect for years to come. We are committed to ensuring that each memorial gift meets every family's individual needs. Our custom-crafted products are made from quality material that will last forever as a tribute to your beloved one.
---